JAZZpects offers an insight into the collection of the Jazzinstitut. These pages will include longer essays that evaluate parts of our archive, but also shorter pieces that contextualize individual documents, letters, publications, photos, posters.
---
No 8: A conversation with Gerd Dudek (Dezember 2023)
Since 1992, the Jazzinstitut has been organizing the annual "Jazz Conceptions" workshop together with the cultural center Bessunger Knabenschule. In addition to the six to seven teachers who stay for the whole week, from time to time we invite guest lecturers to give us a glimpse into their view of jazz. In summer 2017, one of these was saxophonist Gerd Dudek, who passed away in November 2022. In conversation with Wolfram Knauer, he talks about his career before the Globe Unity Orchestra, about a meeting with John Coltrane and about the eternal search for the right reed.
---
No 7: Oral History Interview with Joachim Ernst Berendt (Oktober 2023)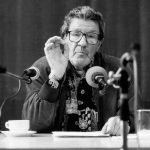 Joachim Ernst Berendt has a lot in common with the Jazzinstitut Darmstadt, not least the fact that his collection forms the basis of the Darmstadt archive. During one of his visits to Berendt's house in Varnhalt near Baden-Baden, Wolfram Knauer asked the author, broadcaster, producer, festival maker to tell him his own story, his initiation into jazz, his work in broadcasting, his travels, projects, festival work, the turn towards spirituality and his current (1992) attitude towards jazz. Here is a transcript of the complete conversation (in German).
---
No 6: "To Erwin and Margie". About a special pen friendship (Juli 2023)
When William Engelleitner emigrated to the USA in the mid-1950s, he kept in touch with his friends, a married couple from Darmstadt. And because they were all jazz lovers, he kept enclosing autographs of jazz musicians he heard in the clubs of New York, Chicago, Washington, Pittsburgh and elsewhere with his letters. The collection of nearly 200 autographs of famous musicians from Sarah Vaughan to Eddie Condon to Chet Baker, Blue Mitchell or Erroll Garner found its way to the Jazzinstitut a few years ago. Here you learn about the history of the collection and see some autograph examples.
---
No 5: Jazz in der Kammer (1965-1990) (April 2023)
From November 1, 1965 to November 10, 1990, one of the most important concert series for jazz in the GDR took place in the Kammerspiele of the Deutsches Theater in East Berlin. "Jazz in der Kammer" presented the most exciting developments in improvised music in East Germany and far beyond over a period of 25 years. Here: three representative playbills from 1965, 1969 and 1990.
---
No 4: Hartmut Geerken's Sun Ra Archive, part 1 (March 2023)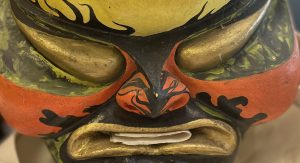 A look into a few of the many documents in the Sun Ra Archive, which we took over from collector and Sun Ra expert Hartmut Geerken in May 2021. Here: prison correspondent (1942-43); the Sun Harp (1971), Hot Dog Sauce (1940s), a Sun Ra mask by Maqsud Schukurwali (1977), and an example of the many discographies about Sun Ra.
---
No 3: Mail from Doc Cheatham, 1964-1966 (Februar 2023)
Letters from the American trumpeter Doc Cheatham to the German jazz researcher Gerhard Conrad, in which Cheatham talks about his admiration for Rex Stewart, about the difficult situation for jazz musicians in the USA as well as about the fact that like him just "have to hustle".
---
No 2: Jazz in Würzburg, 1948-1951 (Februar 2023)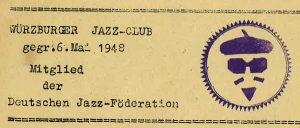 A look at the annual reports of the Jazz Club Würzburg of the years 1948-51 provides information about members and goals of the club, about activities and fierce disputes, for example with the management of the local Amerika-Haus and professors at the Musikhochschule.
---
Number 1 (July 2017) [PDF-Datei]
... A documentation with facsimiles about the jazz festival in Sopot in 1957, for which Werner Wunderlich organized a trip by Frankfurt jazz musicians like Albert and Emil Mangelsdorff to Poland, an event which turned out to be the start of cultural exchange between Germany and Poland after the Word War II.
Excerpt from a radio program on the same subject: hr2 Jazzstudio from 25 June 2003:
Frankfurt musicians as "Ambassadors of Jazz". At the microphone: Jürgen Schwab
(courtesy of hr)