JAZZpects offers an insight into the collection of the Jazzinstitut in different forms. There are longer essays that evaluate parts of our archive, but also shorter contributions that contextualize individual documents, letters, publications, photos, or posters.
No 5: Jazz in der Kammer (1965-1990) (April 2023)
Vom 1. November 1965 bis zum 10. November 1990  fand in den Kammerspielen des Deutschen Theaters in Ost-Berlin eine der wichtigsten Konzertreihen für Jazz in der DDR statt. "Jazz in der Kammer" präsentierte über 25 Jahre hinweg die spannendsten Entwicklungen der improvisierten Musik in Ostdeutschland und weit darüber hinaus. Hier: drei repräsentative Programmblätter von 1965, 1969 und 1990.
---
No 4: Hartmut Geerken's Sun Ra Archive, part 1 (March 2023)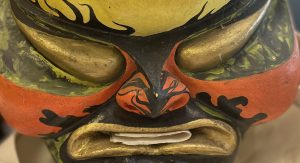 A look into a few of the many documents in the Sun Ra Archive, which we took over from collector and Sun Ra expert Hartmut Geerken in May 2021. Here: prison correspondent (1942-43); the Sun Harp (1971), Hot Dog Sauce (1940s), a Sun Ra mask by Maqsud Schukurwali (1977), and an example of the many discographies about Sun Ra.
---
No 3: Mail from Doc Cheatham, 1964-1966 (Februar 2023)
Letters from the American trumpeter Doc Cheatham to the German jazz researcher Gerhard Conrad, in which Cheatham talks about his admiration for Rex Stewart, about the difficult situation for jazz musicians in the USA as well as about the fact that like him just "have to hustle".
---
No 2: Jazz in Würzburg, 1948-1951 (Februar 2023)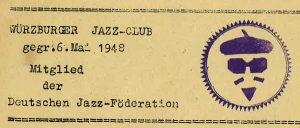 A look at the annual reports of the Jazz Club Würzburg of the years 1948-51 provides information about members and goals of the club, about activities and fierce disputes, for example with the management of the local Amerika-Haus and professors at the Musikhochschule.
---
Number 1 (July 2017) [PDF-Datei]
... A documentation with facsimiles about the jazz festival in Sopot in 1957, for which Werner Wunderlich organized a trip by Frankfurt jazz musicians like Albert and Emil Mangelsdorff to Poland, an event which turned out to be the start of cultural exchange between Germany and Poland after the Word War II.
Excerpt from a radio program on the same subject: hr2 Jazzstudio from 25 June 2003:
Frankfurt musicians as "Ambassadors of Jazz". At the microphone: Jürgen Schwab
(courtesy of hr)