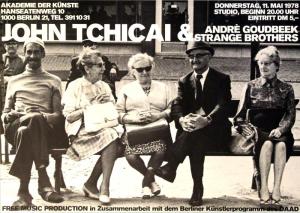 In 2015 the Jazzinstitut will present parts of its poster collection to the public.
It took a while, but with the help of our volunteer Rolf Schäfer we finally managed to digitize most of the posters archived in our collection and enter them into a database.
The poster collection at the Jazzinstitut Darmstadt comprises around 2,000 prints/sheets from all around the world, however with a clear focus on Germany and Europe after 1945. More than 500 of these posters document jazz life in Darmstadt, Frankfurt and the Rhein-Main region.
There are posters designed by well-known artists, posters with an innovative design, whole festival series of posters, posters for clubs, record label editions and many other examples for the genre, documenting a rich and lively jazz scene. The design approach varies over the decades; it documents changes both in design taste and trends, but also changes in the music and the music's aesthetic perception.
Jazz posters sometimes are artists' posters, most of all, though, they are advertising art, a fact which makes even a seemingly non-designed cardboard used by a club to inform their clientele of the necessary concert dates a sociological sample of this specific jazz scene.