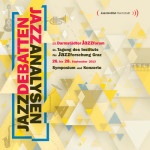 Controversies regarding jazz have been as old as the music and fought between fans, private researchers as well as journalists and scholars. Historical, aesthetic, sociological, analytical and discographical approaches have enabled the growing field of jazz research to describe jazz as an expression of 20th century art music still valid in the 21st century.
The Darmstadt Jazzforum is an international conference taking place every other year in Darmstadt, Germany. The 13th edition of the Jazzforum took place from September 26 to 28, 2013 as an event co-organized with the Institute for Jazz Research at the Arts University of Graz. The discussions during the double conference focused on two subjects: "Jazz Debates" (organized by the Jazzinstitut Darmstadt) and "Jazz Analysis: Postbop" (organized by the Institute for Jazz Research).
The double conference focused on some aspects of these aesthetic as well as analytiocal approaches toward jazz. By organizing a joined conference of the two most important research institutions in the field of jazz we wanted to illuminate some facets of current jazz research but also instigate discussions which hopefully will discover connections between the two strands of the conference. The conference languages were English (main language) and German.
All lectures are free of attendance fees. Her you can find all abstracts and biographies in a printable PDF file.