Jazz-Echos aus den Sixties. Kritische Skizzen aus einem hoffnungsvollen Jahrzehnt
herausgegeben von Siegfried Schmidt-Joos
Altenburg 2022 (Kamprad)
228 Seiten, 19,60 Euro
ISBN: 978-3-95755-670-7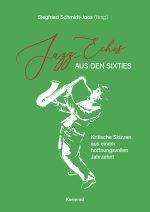 Das "jazz-echo" ist eine verdienstvolle, wenn auch heute kaum mehr bekannte Postille aus den 1950er und 1960er Jahren. Anfangs ein paar Blätter der kleinformatigen Illustrierten "Gondel", umfasste das Blatt bald acht gut-informierte Seiten, geschrieben meist von keinem Geringeren als Joachim Ernst Berendt. Der "spezielle Charakter" des Hefts waren die freizügigen Fotos des Heftes, die Berendt wohl dazu brachte, diesen Nebenverdienst unter dem Pseudonym "Joe Brown" zu verstecken. Ein "kleinformatiges Hochglanzmagazin mit Pinups, Erotik, Unterhaltung und Informationen aus der Film- und Modewelt" beschreibt Siegfried Schmidt-Joos die Gondel; er übernahm die Redaktion des jazz-echos Ende 1959 von Berendt.
Im jazz-echo also erschienen erstaunlich informierte Artikel – obwohl: so erstaunlich mag das gar nicht sein, wenn man Schmidt-Joos' Hinweis erwägt, dass das Heft sechs Jahre vor dem amerikanischen Playboy auf den Markt gekommen war: die Idee war eine ähnliche: dass nämlich Erotik, Klatsch, Nachdenkliches und Kultur durchaus zusammengehen können, warum denn nicht?! Die Fotos jedenfalls waren freizügig genug für die Zeit, so dass ich ältere Besucher bei Führungen durchs Jazzinstitut gerne frage, ob sie das Heft denn noch aus ihrer Jugend kennen und ob es damals über oder unter dem Ladentisch gehandelt wurde.
Für Schmidt-Joos war das jazz-echo eine weitere journalistische Aufgabe neben Artikeln für das Jazz Podium die er seit 1956 verfasste, und seiner Stelle als Jazzredakteur bei Radio Bremen seit Januar 1960. Er schrieb über die ganze Welt des Jazz, schon damals wortgewandt und mindestens so meinungsstark, wie er bis in die Gegenwart geblieben ist (beispielsweise in seinem Buch "Die Stasi swingt nicht").
Beide Aspekte – also die Wortgewandtheit und die Meinungsstärke – erkennt man gleich im ersten Kapitel, einer Studie über den Klarinettisten Jimmy Giuffre, ursprünglich im Januar 1962 veröffentlicht und basierend auf Schmidt-Joos' Erfahrungen bei einem Konzert des Giuffre Trio mit Paul Bley Steve Swallow in Bremen im November 1961. Er habe die erste Platte des Trios mit Titel "Fusion" gehört und sei enttäuscht gewesen, schreibt Schmidt-Joos, und erläutert die Probleme des kritischen Urteils: Soll man diese Musik nun nach den Wertmaßstäben europäischer Musik oder nach jenen des Jazz beurteilen? "Als wir am Nachmittag vor dem Konzert eine Mikrophonprobe hatten, schienen sich all diese Einwände zu bestätigen: der Einwand der Spannungslosigkeit, der Morbidität, der Langeweile, des esoterischen Experimentierens um jeden Preis." Dann aber wurde das Konzert "eine der größten Jazz-Überraschungen, die ich je erlebt hatte. Es wurde ein Erlebnis." Und nun geht er dem Konzept auf den Grund, zitiert dafür aus Briefen, die Giuffre an Horst Lippmann geschrieben hatte und in denen er beschreibt, wie sich das Konzept eines Trios ohne Schlagzeug eher durch Zufall ergeben habe und wie wichtig seine beiden Kollegen dafür seien, die es ihnen zu dritt erlaubten "die Trennungslinie zwischen den Solisten völlig fallen [zu] lassen". "Mein Ziel ist es", schreibt Giuffre in diesen Briefen, "überlieferte, traditionsgebundene Verfahrensweisen und Formvorstellungen aus meiner Musik auszuschließen." Schmidt-Joos ordnet ein: Der Jazz habe sich ja schon zuvor mit der Ausweitung der konventionellen Harmonik befasst, mit der Erschließung neuer Klänge und Klangmöglichkeiten, mit dem Bruch mit dem gebundenen, durchgehenden Rhythmus. Im Giuffre Trio sei all das besonders gut gelungen. "Noch niemals hat es in der Jazzmusik eine so freie und dennoch in sich geschlossene Art kollektiven Improvisierens gegeben", befindet der Autor. Er betont gleichzeitige Soli, vergleicht einige der Stücke des Repertoires mit Beispielen der aleatorischen, seriellen Musik, betont aber auch: "Das Swing-Gefühl blieb erhalten. Es ist abstrakt geworden, es ist nur noch innerhalb der Phrasen spürbar."
Es sind so viele Stellen in diesem Artikel von 1962 zitierenswert, dass dies allein schon zeigt, warum "Jazz-Echos aus den Sixties" ein beeindruckendes, ein wichtiges Buch ist. Neben den klugen Erkenntnissen Schmidt-Joos' und seiner Ko-Autoren erlaubt es nämlich einen Blick auf die Diskurse der Zeit, die irgendwo zwischen Legitimierung des Jazz als Kunstform und dem Versuch eines Verständnisses der neuesten Experimente schwankt.
Also, im Schnelldurchgang: Nat Hentoff schreibt über die "Zukunft der Rhytmusgruppe" (1964) und unterstreicht: "Der Jazz wird in zunehmendem Maße ein immer aufmerksameres Publikum erfordern." Schmidt-Joos porträtiert Ornette Coleman (1965), versucht für sich Elemente wie Colemans Melodieführung, seine Behandlung von Tonhöhe, Dymanik, Form zu verstehen und ermuntert seine Leser dazu, auch dann weiterzuhören, wenn sie mit der Musik erst einmal wenig anfangen können: "Beweisen nicht der Bebop Charlie Parkers und andere zunächst als fremdartig oder gar abwegig empfundene Jazz-Erscheinungen, dass unser künstlerisches Bewusstsein nach einer längeren Hörgewöhnung auch Klänge zu akzeptieren vermag, die uns zunächst unerträglich erschienen?"
Schmidt-Joos stellt Sonny Rollins (1963) und Bill Evans (1965) vor. Manfred Miller schreibt einen der ersten ernsthaften Texte über Peter Brötzmann (1966; im Buch ebenfalls enthalten sind Millers Rezensionen über "For Adolphe Sax" und "Machine Gun", 1967/1968). Mike Zwerin erinnert sich humorvoll an persönlichen Begegnungen mit Miles Davis (1967). Werner Burkhardt hinterfragt den ungewöhnlichen Personalstil Don Cherrys (1965). Manfred Miller stellt Wolfgang Dauner als einen Neuerer des Jazz vor (1966). Ingolf Wachler diskutiert über den Disput zwischen Mainstream und Avantgarde (1963). Joachim Ernst Berendt erinnert an den gerade verstorbenen Bassisten Oscar Pettiford (1960), Schmidt-Joos an Dinah Washington (1964) und Eric Dolphy (1964).
Das alles ist lesenswert als Zeitstudie, lesenswert gerade wegen der Diskurse, die auf den Seiten des jazz-echos (nicht anders als auf denen des Jazz Podiums der Zeit) ausgetragen wurden. Schmidt-Joos hat die Beiträge klug ausgewählt und zusammengestellt; immer wieder bebildert durch Titelseiten der betreffenden Hefte, ansonsten durch inhaltlich motivierte und atmosphärische Fotos.
Wolfram Knauer (Juni 2022)
---
Further On Up the Road. Traveling to the Blues
von Martin Feldmann
Frankfurt/Main 2022 (Eigenverlag)
268 Seiten, 49 Euro
ISBN: 978-3-00-069843-9
Bestellungen über: http://further-on-up-the-road.de
Der Redakteur Martin Feldmann reiste seit 1970er Jahren regelmäßig durch die Welt auf der Suche nach Bluesmusik. Seine Fotos erschienen über die Jahre in Tageszeitungen und Fachmagazinen, aber auch in seinen selbst herausgegebenen Blueskalendern. Jetzt hat Feldmann seine Erinnerungen an die Reisen durch die Vereinigten Staaten genauso wie durch Europa auf der Suche nach dem Blues in einem Buch zusammengefasst, komplett mit etwa 500 Fotos.
Es ist eine sehr persönliche Bluesgeschichte geworden, im wahrsten Sinne des Wortes mit den Augen Feldmanns gesehen. Da finden sich die üblichen Konzertfotos von Festivals und aus kleinen Clubs etwa in Chicago, Detroit, New York, Kansas City, St. Louis, Memphis, Clarksdale, Baton Rouge, New Orleans, Houston, Austin, Los Angeles oder San Francisco, Abbildungen von Plakaten, Eintrittskarten, Briefen, Speisekarten, vor allem aber viele ungewöhnliche und überaus persönliche Fotos Feldmanns: Albert Collins mit Fans, Produzent Jim O'Neal am Telefon, John Henry Davis mit Kasse auf dem Kopf, tanzende Paare zu Byther Smith, Straßenmusiker in New Orleans, der Friseur Wade Walton auf seiner Harmonika im Frisiersalon, aber auch Buddy Guy im Frankfurter Sinkkasten, Champion Jack Dupree in Siegen, George Jackson vor dem Gartenzaun und und und. Die Geschichten, die Feldmann dazu erzählt, sind Erinnerungen an seine Reisen oder kurze biographische Abrisse der abgebildeten Künstlerinnen und Künstler. Manchmal erinnert er sich an die Musik, meistens vor allem an die Stimmung, die auch auf seinen Fotos zu erkennen ist.
Martin Feldmann hat sein Buch Further On Up the Road im Selbstverlag herausgebracht, mit deutsch/englischem Textteil ist es direkt vom Autor zu beziehen.
Wolfram Knauer (Mai 2022)
---
The Syntax of Sound. Untersuchungen zur Musik Pat Methenys (1974-1994)
Von Georg Alkofer
Münster 2022 (Waxmann)
341 Seiten, 39,90 Euro
ISBN: 978-3-8309-4472-0

Als Ziel formuliert Georg Alkofer zu Beginn seines Buchs, durch systematische Analyse der Musik herausfinden zu wollen, ob Pat Metheny "den etablierten Konventionen der Stile folgt oder ob ihm eine persönliche Ausdrucksweise oder gar ein wiedererkennbarer Personalstil zugemessen werden" könne (15f).
Tscha, mag der interessierte und Blindfoldtest-feste Hörer sagen, natürlich hat Metheny einen wiedererkennbaren Personalstil! Aber so ist es nun mal mit der Wissenschaft: Sie will, soll, nein: sie muss auch diejenigen Dinge analytisch belegen, die einem bei oberflächlicher Betrachtung zunächst klar erscheinen. Sie legt die Lupe an, seziert, ordnet, argumentiert, resümiert und kann am Schluss im besten Falle belegen: Ja, so ist es.
Und so ist es auch, erfahren wir, wenn wir ein wenig vorlaut 300 Seiten vorblättern und lernen, wie wichtig die Mitwirkung in Gary Burtons Band für die Ausbildung Methenys persönlicher Ästhetik war, wie er in seinen eigenen Produktionen meist projektbezogen arbeitete, dabei unterschiedlichste Einflüsse aufnahm, von Postbop und Ornette Coleman über Country bis Folk und Pop, wie der Sound ihm über die Jahre immer wichtiger wurde, wie sich sein kompositorischer Ansatz genauso veränderte sie seine instrumentale Technik, wobei er "Klang" (also Sound) "mitunter gleichberechtigt zu allen anderen eine Komposition bestimmenden Parametern" setzte (316).
Seine Suche nach neuen Klängen und neuen Ausdrucksmöglichkeiten führt zu zahlreichen instrumentalen Innovationen bis hin zur Pikasso-Guitar, einem mit 42 Saiten gestücktem Instrument auf Basis einer Gitarre mit diversen Resonanzsaiten. "Sich selbst", spitzt Metheny das einmal zu, sehe gar nicht so sehr als Gitarristen: "Für mich geht es um Sound und Orchestrierung" (316). Diese allerdings erreicht er durchaus auf dem Weg instrumentaler Virtuosität, die sich an Vorbildern wie Wes Montgomery oder Jim Hall genauso orientiert wie an Bläsern, wobei er eine lockere, von ihm selbst mit "looseness" umschriebene Artikulation benutzt, "die das Anschlaggeräusch der Saiten zu vermeiden sucht, durch Slides Übergänge schafft und gemäß dem Atem bläserhaft phrasiert oder mittels horizontaler Orientierung auf dem Griffbrett sequenzierende Tonfolgen durch Aufschlags- und Abziehbindungen erzeugt" (317). Die Jazzgeschichtsschreibung habe Metheny meist in die Stilschublade "Fusion" gesteckt, erklärt Alkofer, allerdings habe der Gitarrist auch Einflüssen aus Free Jazz bis Pop gegenüber offen gestanden und sich immer vor allem als forschenden Künstler verstanden.
Aber stopp, ich bin vorgeprescht, also zurück zum Anfang des Buchs. Im Kapitel "Biographie / Sozialisation" geht es genau darum, wobei Alkofer biographische Details auf ein Minimum reduziert und vor allem Bekanntes widergibt (21ff). Im Unterkapitel über "Lern- und Lehrsituationen" (26ff) lässt er erahnen, dass Metheny, der mit 19 Jahren als jüngster Dozent sowohl am Berklee College in Boston wie auch in Miami unterrichtete, schon damals eine klare Vorstellung zumindest der Ausgangslage seiner musikalischen Forschung besaß. Es folgt eine kurze stilhistorische Einordnung der 1970er Jahre im Jazz, und dann geht's ans Eigentliche, oder wie Alkofer es überschreibt: "Die Musik Pat Methenys: Analysen"
Im Quartett Gary Burtons habe Metheny sich damit auseinandersetzen müssen, dass sich seine und die melodischer konzipierte Spielhaltung des Vibraphonisten deutlich unterschieden. Die Zeit bei Burton sei wie ein "Ersatz einer formalen musikalischen Ausbildung" gewesen, schreibt Alkofer, bei ihm habe er gelernt, wie wichtig der Parameter Dynamik beispielsweise für die narrative Qualität und damit die Publikumswirkung der Musik sei (47).
Durch die Arbeit bei Burton wurde auch Manfred Eicher auf Metheny aufmerksam (48) und bot ihm 1973 an, ein Album unter eigenem Namen einzuspielen, das zwei Jahre später unter dem Titel "Bright Size Life" erschien. Alkofer analysiert die Musik der Platte , fragt nach Aspekten der Kompositionsstruktur (51), nach der Rolle der Gitarre als "Bedingung der Komposition" und nach Fusion von Jazz und Country (67).
Für das nächste Album "Watercolors" stellt er "erste Farbkonturen eines Ensembleklangs" fest (70), betont, wie wichtig die langjährige Zusammenarbeit  mit dem Pianisten Lyle Mays für Methenys Entwicklung gewesen sei und erklärt den Titel seines Buchs, "Syntax of Sound" durch ein Zitat Methenys, in dem dieser auf eine Art gemeinsamen Nenner der ihn beeinflussenden Musik verweist (90). Neben musikalischen Parametern erläutert Alkofer auch technische Entwicklungen, die sich auf das Spiel Methenys auswirken, "Digital Delay und Chorus" (91), Verstärkung (93), Gitarrenmodelle (94), Besaitung (96), Plektrumtechnik (97), die alle zum "Sound" als Ausdruck musikalischer Identität beitragen.
Atmosphärisch interessiert ihn die Beschäftigung mit "pastoraler Stilistik", etwa in "New Chautaqua" und die damit verbundene "Öffnung des Jazzbegriffs" (133). Das Album "American Garage" charakterisiert er als "jugendlichen Jazz 'n Roll" (135), als "Ausdruck eines stilistischen und kulturellen Wandels", eines Ansatzes, "der sich stilistisch auf die amerikanischen Wurzeln seiner Generation in Gestalt der Genres Rock'n Roll, Soul und Pop bezieht" (161).
Das Album "80/81" gibt Anlass zu einer Diskussion des Einflusses Ornette Colemans auf Methenys Musik (164ff), das Album "As Falls Wichita, so Falls Wichita Falls" zur Diskussion der Reduktion auf eine Duobesetzung mit Lyle Mays (197ff). Für die 1980er Jahre diskutiert Alkofer Traditionsbezug (211), globale Fusionierungen (213) aber auch elektronische und akustische Innovationen (214ff), derer sich Metheny bedient.
Er hört sich das Album "Rejoicing" von 1983 an (237ff) und beschreibt den Unterschied des Trios mit Charlie Haden und Billy Higgins zur Metheny Group (unter anderem eine deutlicher Hinwendung zu Elementen der Jazztradition). Er entdeckt Einflüsse der Minimal Music im Album "Still Life (Talking)" von 1987 (254ff), er findet Methenys Version von David Bowies "This Is Not America" in den Pop Pop Charts  (268ff), und er betrachtet "Song X",  ein Album das Metheny 1985 mit Ornette Coleman aufnahm (272ff).
Von 1992 stammte "Zero Tolerance for Silence", auf dem in Overdub-Technik einzig Metheny zu hören ist. Alkofer diskutiert die Faktur der Stücke, die ein Kritiker mit "semi-organized noise" beschrieben hatte und stellt fest, Metheny habe hier "das Blues-Rock-Vokabular einer künstlerischen Stilisierung" zugeführt, bei der, "obwohl er also nur traditionelles Rock-Vokabular anwendet, (…) die Summe der Klangereignisse nicht auf das Genre Rock" verweist (282).
Der Spielhaltung von "looseness", die Alkofer zuvor festgestellt hat, stellt Metheny hier jene der "tightness" entgegen, beschreibt das Album selbst als "Erkundung klanglicher Dichte" (284). Metheny habe immer ein Interesse an stilistischen Randbereichen gehegt, schreibt Alkofer (286), hier genauso wie in seiner Zusammenarbeit mit keinem geringeren als dem britischen Gitarristen Derek Bailey und erklärt, wie in "Zero Tolerance for Silence" die Verwendung eigentlich konventioneller Stilmittel in seiner Dekontextualisierung zu einer Wahrnehmung als Avantgarde führen konnte (285).
Alkofer beendet seine analytische Diskussion mit dem 1991 eingespielten Album "Secret Story", das Metheny selbst als ambitioniertestes Projekt seiner Laufbahn und Kulminationspunkt seiner kompositorischen Fähigkeiten beschrieben habe (287). Über 80 Personen waren an dem Album beteiligt, das Alkofer "orchestrale Programmmusik" nennt; die Arrangements seien bis ins kleinste Detail ausgearbeitet gewesen. Er habe "Secret Story" als Filmmusik-Album ohne Film erachtet, erklärt Metheny, sich dabei vor allem auf seine Rolle als Komponist fokussiert, weniger auf die des Gitarristen (292). "Wie unter einem Brennglas", fasst Alkofer zusammen, verarbeite die Musik dieses Albums viele Elemente, die im Laufe der Entwicklung Methenys seit den 1970er Jahren eine Rolle spielten (307ff): Country/Americana, Jazz, Minimal Music, New Age, World Music, Popmusik, symphonische Elemente, Qualität der Studio-Produktion, Verarbeitung akustischer, elektrischer und elektronischer Klänge.
Georg Alkofer, der selbst als Gitarrist und Posaunist tätig ist, hat mit seiner Arbeit über Pat Metheny seinen Doktorgrad erlangt, entsprechend musikwissenschaftlich sind große Teile des Buchs gehalten. Die ausgiebigen Analysen aber sollten nicht abschrecken: Alkofer gelingt es in den einleitenden und den zusammenfassenden Absätzen immer wieder den Blick seiner Leser:innen auf das zu richten, worauf es ihm ankommt: die musikalische Entwicklung Pat Methenys, mögliche Gründe für ästhetische Entscheidungen sowie die Art und Weise der Umsetzung und ihre Auswirkungen auf sein weiteres Schaffen.
Wolfram Knauer (April 2022)
---