Dr. Wolfram Knauer (Director)
… studied musicology, English and American literature, art history and sociology and holds a Ph.D. from Kiel University. Since its inception in 1990 he serves as the director of the Jazzinstitut Darmstadt. He had teaching appointments at several major universities and is a regular speaker at international conferences. Knauer's scholarly credits include several books as well as numerous essays in German, American and international books and scholarly journals. He is editor of the book series Darmstadt Studies in Jazz Research since 1991 (15 volumes this far). He served on numerous international advisory boards. For the spring semester 2008 Knauer was appointed the first non-American Louis Armstrong Professor of Jazz Studies at the Center for Jazz Studies, Columbia University, New York. His most recent books are on Louis Armstrong, Charlie Parker, and Duke Ellington (all published by Reclam). In the fall of 2019 he published "Play yoursef, man!" Eine Geschichte des Jazz in Deutschland (Reclam), a comprehensive history of jazz in Germany from the beginnings to the present.  (list of publications)
Press photo: Please click on the thumbnail above which links to a high resolution jpg.
Contact: Tel. +49 6151 963740, knauer@jazzinstitut.de
Doris Schröder (Project Manager/documentation, archives and exhibitions)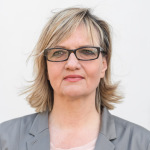 … studied art history, archaeology and theater and film studies at Johann Wolfgang Goethe-Universität in Frankfurt/Main. She served as head of arts funding at the cultural department of the city of Ludwigshafen in which capacity she organized many cultural events. She wrote several publications for the Darmstadt monuments preservation office, among them a book about the history of the Mathildenhöhe Darmstadt and another about the area of the Bessunger Jagdhofes which today is home to the Jazzinstitut. Doris Schröder works for the Jazzinstitut since 1995. She is in charge of the visual archives and organizes regular exhibitions.
Press photo: Please click on the thumbnail above which links to a high resolution jpg.
Contact: Tel. +49 6151 963700, schroeder@jazzinstitut.de
Arndt Weidler (Project Manager/general services and concerts)
… studied sociology, political sciences and social psychology at the universities in Heidelberg and Mannheim. In his Master thesis he examined the different expectations of a blues and jazz audience before and during their visit to a concert. Along with his studies at university, he worked as a roadie for American blues bands, then founded his own agency for blues and jazz musicians and organized club concerts and festivals between blues, jazz and gospel music. Since 1998 Arndt Weidler is employed at the Jazzinstitut Darmstadt, where he is in charge of programing for concerts, workshops, conferences, also helping customers with all general questions. Among many other ongoing engagements as a consultant and juror, Arndt Weidler was chairman of the association German Jazz Meeting (2005-2011), member of the national jury for the "German Club Award" (2014-2017) as well as project manager for the first major survey on the the situation of jazz musicians in Germany (Jazzstudie 2016).
Press photo: Please click on the thumbnail above which links to a high resolution jpg.
Contact: Tel. +49 6151 963700, weidler at jazzinstitut.de
---
Volunteers
The Jazzinstitut is the smallest of Darmstadt's municipal cultural institutions. For much of our work we rely on the help of volunteers. Volunteers organized in the Verein zur Förderung des zeitgenössischen Jazz in Darmstadt e.V. (Förderverein Jazz) organize many of the concerts but also the catering in our concert space. For archival work our thanks go to:
Rainer Grobe (Ehrenamt für Darmstadt e.V.)

… helps to catalogue our recorded music collections.

Michael Telega

.. is a specialist for jazz films and digitized the film collection of the Jazzinstitut (www.michaeltelega.de).

Günter Schapka… catalogues several record collections, also maintains the database of our collection for internet access.

Helmut Lücke (Ehrenamt für Darmstadt e.V.)

… catalogues all new CDs and helps prepare the bi-monthly "Darmstädter Jazzkalender".

Alexander von Leliwa (Ehrenamt für Darmstadt e.V.)

… compiles indexes of our special collections and private collector's estates.

Rudolf Schäfer

… asssits the preparation of our changing exhibitions, and catalogues our poster collection, digitizes and prepares the material for a future reference database.