" width="300″ height="180″ /> Panel 2: An die Arbeit – 17. Darmstädter Jazzforum Roots/Heimat (Foto: Wilfried Heckmann)[/caption]"Wir" und "die anderen"
Die viel-postulierte "Emanzipation" des europäischen Jazz in den 1950er und 1960er Jahren von den US-amerikanischen (und damit insbesondere auch den afro-amerikanischen) Vorbildern führte oft zu einer Haltung des "Wir müssen etwas Eigenes machen", das – meist eher unbewusst als bewusst – zur Vorstellung führte, das, was die produktive Kraft des Jazz da in Europa hervorbrachte, sei tatsächlich völlig verschieden von dem, was in den USA passierte. Harald Kisiedu hinterfragt diese Zusammenhänge, diskutiert die wichtigen afro-diasporischen Beiträge zum europäischen experimentellen Jazz und die in der Jazzszene ja immer vorhandene Bewunderung afro-amerikanischer Heroen unter dem Aspekt der kulturellen creolization. Timo Vollbrecht arbeitet seit langem als Saxophonist auf der New Yorker Musikszene aktiv, tourt außerdem mit divers besetzten Bands durch Deutschland und Europa. Er hat Mitmusiker:innen nach ihren Erfahrungen mit "social othering" und der Exotisierung ihrer Person/Kunst/Musik befragt und diskutiert davon ausgehend mögliche Strategien, was sich denn für jeden Künstler, jede Künstlerin selbst tun ließe, um mehr gesellschaftliche Gerechtigkeit in der Musik-Community zu erreichen.
Trompeter Stephan Meinberg fragt nach möglichen Umgangsweisen mit dem eigenen Privilegiert-Sein als "weiß" gelesene Person, die sich zudem beruflich, z.B. als ausübender Musiker, mit größtenteils afro-amerikanischer Musik befasst. In einem Roundtable mit zwei dem Gitarristen Jean-Paul Bourelly, der Veranstalterin Kornelia Vossebein und den Kulturaktivist:innen Joana Tischkau und Frieder Blume wollen wir schließlich darüber diskutieren, was es bedarf, um nicht nur zu einem Bewusstseinswandel, sondern darüber hinaus auch zu einer anderen Repräsentation von Musiker:innen auf der Bühne beizutragen (Moderation: Sophie Emilie Beha). Wir haben dieses Panel optimistisch überschrieben: "An die Arbeit: Realität verändern!!!"
Ausführliche Abstracts für Freitag
Von Leuten und Menschen (case studies)
Identität ist zum einen etwas ungemein Persönliches, wird zum anderen von außen allerdings oft anders wahrgenommen als von einem selbst. Damit beschäftigt sich der
Vormittag des dritten Tags beim Jazzforum, an dem konkrete, sehr verschiedene Beispiele ausgebreitet werden. Nico Thom stellt Bill Ramsey vor, den weißen US-Amerikaner, der (neben einer Schlagerkarriere) in der deutschen Jazzszene der 1950er Jahre als "Mann mit der schwarzen Stimme" gefeiert wurde, und diskutiert dabei unterschiedliche Aspekte der "Amerikanisierung Europas, bei der sich die 'westeuropäischen Nachkriegsgesellschaften aktiv mit strategischen Eigeninteressen und geschickten Aneignungsstrategien an der Amerikanisierung beteiligt haben'".
Ausgehend von einem Konzert beim Deutschen Jazz Festival 1978, bei dem der Saxophonist Heinz Sauer gemeinsam mit Archie Shepp und George Adams auf der Bühne stand, setzt sich Peter Kemper schließlich mit Entwicklungsprozess sowohl der Musik wie auch der musikästhetischen Haltungen sowohl Shepps wie auch Sauers auseinander und fragt, ob es dabei auch ästhetische Qualitäten des Jazz gebe, die über alle ethnischen, geographischen und nationalen Identitäten hinausweisen. Als Überleitung zum letzten Nachmittag des Jazzforums betont Vincent Bababoutilabo die Notwendigkeit rassismuskritischer Perspektiven in der Musikpädagogik heute und hierzulande.
Ausführliche Abstracts für Samstag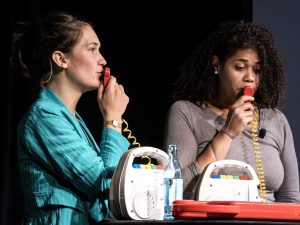 Wir wie die Welt sehen
Für die eigene Perspektive ist jede:r einzelne von uns selbst zuständig. Perspektiven sind aber keine feste Vorgabe, sie lassen sich verändern. Von solchen Perspektivveränderungen handelt der letzte Nachmittag des Jazzforums. Zunächst stellen Sanni Lötzsch und Jo Wespel ihr Konzept FESTIVAL BOOST NOW! vor, das zugleich ein Aufruf zur Selbstermächtigung der Musiker:innen und zur Schaffung "zugänglicher Strukturen" innerhalb der Kulturszene (Communities") ist. Ihr Entwurf fordert die radikale Öffnung für queerfeminischtische, intersektionelle, antirassistische und interdisziplinäre Ansätze sowohl im kreativen Prozess als auch bei der Gestaltung des kulturellen Umfeldes. Dazu entwickeln sie mit ihrer "Meta-Community" nicht nur multiperspektivische Veranstaltungsformate, sondern gleich ganze "Realutopien". Die Saxophonistin Luise Volkmann hat im April 2021 den vom Jazzinstitut verliehenen Kathrin-Preis erhalten, der mit einer Residenzwoche in Darmstadt verbunden war, bei der sie Recherchen zu Sun Ra, zur afrikanischen Diaspora, zum Black Atlantic, zum sozio-musikalischen und politischen Einfluss von Musik anstellte- Zugleich diskutierte sie mit einem neuen Ensemble den Unterbau ihres Projekts, das am Freitagabend beim Darmstädter Jazzforum zu Gehör kommt, die afro-amerikanische Diaspora also und wie wir als Europäer mit dieser umgehen. In einem eigenen Beitrag und anschließend im Gespräch mit der Singer-Songwriterin Ella O'Brien-Coker wird Volkmann Aspekte von Ritualität, unsere vielen Identitäten und das performative Sprechen diskutieren. Im abschließenden Panel fragen wir danach, welchen Einfluss unsere Eigen- und Fremdsicht auf den Dialog mit "der Welt" hat. Wir haben dazu Constanze Schliebs eingeladen, die über viele Jahre Agenturerfahrung im In- und Ausland verfügt, außerdem als Kuratorin und Festivalgründerin in China aktiv war und ist, Sophie-Therese Hueber vom Musikbereich des Goethe-Instituts, sowie Sylvia Freydank vom Internationalen Musikinstitut Darmstadt (Ferienkurse für Neue Musik), Institutionen, bei denen ähnliche Diskussion ebenfalls seit längerem geführt werden (Moderation: Sophie Emilie Beha). Und wir fragen etwas provokant: "Exportieren wir eigentlich nur Musik oder auch unsere Weltsicht?"
Ausführliche Abstracts für Samstag
---
Konzert:
Am Freitagabend, 1. Oktober 2021, wird Luise Volkmann mit LEONE sauvage im Saal der Bessunger Knabenschule zu hören sein. (mehr…)
---
Ausstellung:
Ab 4. Oktober 2021 zeigen wir in der Galerie im Jazzinstitut (und während der Konferenz auch im Konferenzraum) die Ausstellung "Jazzgeschichten in Rot und Blau" mit Plakaten des Schweizer Künstlers Niklaus Troxler. (mehr…)
---
Weitere Fragen bitte an jazz@jazzinstitut.de
---
Das 17. Darmstädter Jazzforum wird gefördert von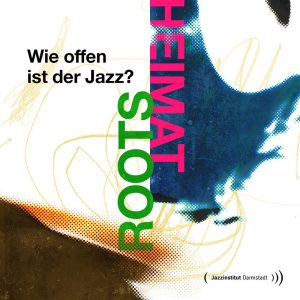 The 17th Darmstadt Jazzforum which will take place from September 30 through October 2, 2021, asks about the sometimes unclear relationship between "roots" and "Heimat", the loaded German word signifying "home",  "home country", "home culture" and much more. Roots stands for the African-American origin of jazz that resonates even in the most advanced experiments of contemporary improvisation. Heimat stands for the fact that jazz in particular always demands a cultural and aesthetic self-localization. For some, jazz is a creative practice used globally, but always pointing back to its African-American origins. For others, jazz is something they grew up with, something that allows them to express their own concerns and individual point of view better than most other genres. For many, jazz is both, containing the African-American tradition just as much as the productive freedom to apply this practice outside of its original community connecedness.
All of that is what we want to talk about. We plan to continue discussions prompted by the Black Lives Matter movement about the idea of "Europe" which had a lasting influence on aesthetics and ethics, the presentation and the reception of jazz. We ask how a possibly Eurocentric perspective has changed and continues to shape our perception of what jazz stands for, how it connects both to the music's African American origins and to our own individual cultural environment. Our discussions may start with the name "jazz", we may look at historical examples of Eurocentric tendencies, and we may take into account the current discourse about the relevance of jazz in non-African American communities. We will talk about racism in jazz, reflect on how exclusion and different forms of othering are present in today's jazz scene, and look at alternate readings of how the example of African American culture has changed and enriched the understanding of music all over the world. We won't limit the discussion to jazz but also look at similar debates about Eurocentrism or African-Americanism in contemporary composed music or pop culture.
The Darmstadt Jazzforum is an international conference aimed at a more general than just the scholarly community. We expect papers that spur on discussions beyond the limits of jazz research, and we expect an audience of musicians, journalists, dedicated jazz fans as much as students and scholars from different fields.
---
Das Darmstädter Jazzforum online
Thursday, 30 September 2021
Friday, 1. October 2021
Saturday, 2 October 2021
Concert, Luise Volkmann + LEONEsauvage
---
The Jazzinstitut Darmstadt organizes the Darmstadt Jazzforum with the support of the City of Sciences Darmstadt. In 2021 it is held in co-operation with HoffART-Theater Darmstadt and the Bessunger Knabenschule. The 17th Darmstadt Jazzforum is funded by the Kulturfonds FrankfurtRhein-Main and by the Hessian Ministery for the Sciences and the Arts. It is presented by Jazzthetik – Zeitschrift für Jazz und anderes.
---
Summery of the program:
Thursday, 30 September 2021, from 2:00pm
How is cultural identity formed and how is its perception influenced?
On the first day of the 17th Darmstadt Jazzforum conference we will ask how cultural identity is expressed in music or how it is perceived or not perceived in music. Philipp Teriete will talk about the educational canon at Historically Black Colleges and Universities in the USA in the late 19th and early 20th century and discuss the influence of this kind of music education on early jazz. Anna-Lisa Malmros discusses the very different identities of Danish-Congolese saxophonist John Tchicai, who has also been identified with the U.S. free jazz scene at least since his participation in some of its most prominent recordings in the 1960s. The following conversation with saxophonist Gabriele Maurer, double bassist Reza Askari, and vocalist Simin Tander [t.b.c.] will also discuss issues of identity, namely present the very personal experiences of artists who have been affected in different ways, by skin color, family background, and/or their artistic engagement with traditions that lie outside their German homeland (moderated by Sophie Emilie Beha). We have titled this panel: "About being a stranger, arriving, yet staying a stranger. Conversation about one's own experience of identity perception".
---
Friday, 1 October 2021, from 09:30am
Cultural appropriation and national self-image (case studies)
In the morning session of the second conference day we will talk about the often very personal process of appropriation of African-American music in Europe. Philipp Schmickl will present the example of the Austrian Hans Falb, who met African-American trumpeter Clifford Thornton in Paris in 1978 and then planned concerts for and with Thornton in his hometown in eastern Austria, which eventually resulted in an internationally acclaimed festival. He questions the motivations behind Falb's curatorial activity and relates them to Thornton's views on music and politics of the time. Ádám Havas refers to a 2002 statement by Bruce Johnson ("Jazz was not simply 'invented' and then exported. It was invented in the process of its own dissemination") and applies it to the reception of jazz in Hungary, which has been very consciously drawing on cultural practices of Roma musicians living in Hungary. Finally, Niklaus Troxler, whose posters are the subject of a special exhibition at the Jazzinstitut, will talk about his own path to jazz, as a fan, as the founder and longtime organizer of the Willisau Jazz Festival, with which he was able to bring many of the musicians to Switzerland whose music he adored, and as an internationally renowned graphic artist.
Friday, 1 October 2021, from 2:00pm
"Us" and "the others"
The much-postulated "emancipation" of European jazz in the 1950s and 1960s from U.S. (and thus especially African-American) models often led to an attitude of "we have to do something of our own," which – mostly unconsciously rather than consciously – led to the perception that jazz produced by European musicians had become something quite different from what was happening in the United States. Harald Kisiedu questions these perceptions, discusses the important Afro-Diasporic contributions to European experimental jazz and the admiration of African-American heroes that has always existed in the jazz scene, as examples for cultural creolization. Timo Vollbrecht has long been active as a saxophonist on the New York music scene, and also tours Germany and Europe with different bands. He has asked fellow musicians about their experiences with "social othering" and the exoticization of their person/art/music and, based on this, discusses possible strategies for each artist to achieve social justice in the music community. Trumpeter Stephan Meinberg asks about how to deal with one's own privileges as a person perceived as "white" who as a professional, e.g. practicing musician furthermore works mostly with African-American music. In a roundtable with guitarist Jean-Paul Bourelly, concert promoter Kornelia Vossebein and cultural activists Joana Tischkau and Frieder Blume, we will finally discuss what is needed to contribute not only to a change in consciousness, but also to a different representation of musicians on stage (moderator: Sophie Emilie Beha). We have optimistically titled this panel: "Get to work: change reality!!!"
---
Saturday, 2 October 2021, from 09:30am
Of folks and people (case studies)
Identity is on the one hand something very personal, but on the other hand it is often perceived differently from the outside than by oneself. This is the subject of the morning session of the third conference day, which collects some very specific, yet quite different examples . Nico Thom talks about Bill Ramsey, the white U.S. American who (in addition to a career in German "Schlager") was celebrated in the German jazz scene of the 1950s as the "man with the black voice", discussing aspects of the "Americanization of Europe, in which 'postwar Western European societies actively participated in Americanization with strategic self-interests and skillful appropriation strategies.'" Focusing on a concert at Deutsches Jazz Festival in 1978, in which saxophonist Heinz Sauer shared the stage with Archie Shepp and George Adams, Peter Kemper examines the developmental of both Shepp's and Sauer's musical approaches and asks about aesthetic qualities of jazz that may transcend ethnic, geographical and national identities. Like an introduction to the afternoon session, Vincent Bababoutilabo emphasizes the need for perspectives critical of racism in music education today and in this country (Germany).
Saturday, 2 October 2021, from 02:00pm
How we view the world
Each of us is responsible for our own perspective. Perspectives, however, are not a default, they can be changed. The last afternoon of the Jazzforum is about such changes of perspective. We start the afternoon with a presentation by Berlin-based musicians Sanni Lötzsch and Jo Wespel. They will introduce their concept FESTIVAL BOOST NOW!, which is meant to be a call for self-empowerment of musicians on the one hand and for the creation of "fundamental openness" within all culture communities on the other. Their radical concept demands an approach towards queerfeminist, intersectional, anti-rassist, and interdisciplinary teamwork  within the artistic process, as well as the re-formation of cultural structures. With their "Meta-Community" they not only develop multiperspective event formats, but also create holistic "Realutopien" (real world utopias), as they call it. Saxophonist Luise Volkmann received the Kathrin-Preis awarded by the Jazzinstitut in April 2021, which came with a week-long residency in Darmstadt, during which she conducted research on Sun Ra, the African diaspora, the Black Atlantic, the socio-musical and political influence of music. At the same time, she met for the first time with the musicians of her latest LEONEsauvage band, which will be heard on Friday evening at the Darmstadt Jazzforum, and discussed with them subjects such as the African-American diaspora and how we as Europeans deal with it. In her own contribution and then in conversation with singer-songwriter Ella O'Brien-Coker, Volkmann will discuss aspects of rituality, our many identities and performative speech. In the concluding panel, we ask what influence our own and others' views have on our dialogue with "the world". We have invited Constanze Schliebs, who has many years of experience as a booking agent in Germany and abroad and has also been active as a curator and festival founder in China, Sophie-Therese Hueber from the music department of the Goethe-Institut, and Sylvia Freydank from Internationales Musikinstitut Darmstadt (Summer Courses for New Music), institutions where similar discussions have been going on for some time (moderator: Sophie Emilie Beha). And we ask somewhat provocatively, "Do we actually just export music or also our worldview?"
---
Concert:
On Friday evening, 1 October 2021, Luise Volkmann and LEONE sauvage at Bessunger Knabenschule. (more…)
---
Exhibition:
From 4 October 2021 the gallery of the Jazzinstitut shows the exhibition "Jazz Stories in Red and Blue" with posters created by Swiss artist and jazz promoter Niklaus Troxler. Some posters will be shown at the conference venue during the Jazzforum. (more…)
If you have any further questions, fee free to write us at jazz@jazzinstitut.de
---
Das 17. Darmstädter Jazzforum wird gefördert von 

The Darmstadt Jazzforum is an international conference taking place every other year since 1989 and focuses on different topics in each edition. It is an unique mix featuring an international conference, concerts, workshops or exhibitions. Each Jazzforum has been documented in our book series "Darmstädter Beiträge zur Jazzforschung" ("Darmstadt Contributions to Jazz Research" published by Wolke editors, Hofheim), a book series of sixteen volumes up-to-now which focuses on jazz scholarship and documentation.
The 17th Darmstadt Jazzforum took place from 30 September  to 2 October 2021 (about "Roots_Heimat: Wie offen ist der Jazz").

Previous Darmstadt Jazzforums dealt with subjects as "Darmstädter Jazzforum 89" (1989), "Jazz und Komposition" (1991), "Jazz in Europa" (1993), "Jazz in Deutschland" (1995), "Jazz und Sprache" (jazz and language; 1997), "Duke Ellington und die Folgen" (Duke Ellington and what next; 1999), "Jazz und Gesellschaft" (Jazz and Society; 2001), "Improvisieren…" (2003), "Verrat!!… oder Chance. Der Jazz und sein gespaltenes Verhälnis zur Popmusik" (Treason !!! … or Chance? Jazz and its ambivalent relationship(s) with popular music; 2005), "Begegnungen… The World meets Jazz" (Encounters… The World meets Jazz; 2007), "Spannung | Tension. Albert Mangelsdorff" (2009), "Jazz.Schule.Medien." (2011), "Jazzdebatten / jazz debates" (2013), "Gender and Identity in Jazz" (2015), "Jazz@100" (2017), "Positionen! Jazz und Politik" (2019)
Please find Darmstadt Jazzforum on Facebook