Dr. Wolfram Knauer (director)
… studied musicology, English and American literature, art history and sociology and holds a Ph.D. from Kiel University. Since its inception in 1990 he serves as the director of the Jazzinstitut Darmstadt. He had teaching appointments at several major universities and is a regular speaker at international conferences. Knauer's scholarly credits include several books as well as numerous essays in German, American and international books and scholarly journals. He is editor of the book series Darmstadt Studies in Jazz Research since 1991 (15 volumes this far). He served on numerous international advisory boards. For the spring semester 2008 Knauer was appointed the first non-American Louis Armstrong Professor of Jazz Studies at the Center for Jazz Studies, Columbia University, New York. His most recent books are on Louis Armstrong, Charlie Parker, and Duke Ellington (all published by Reclam). In the fall of 2019 he published "Play yoursef, man!" Eine Geschichte des Jazz in Deutschland (Reclam), a comprehensive history of jazz in Germany from the beginnings to the present. (list of publications)
Press photo: Please click on the thumbnail above which links to a high resolution jpg.
Contact: Tel. +49 6151 963740, knauer@jazzinstitut.de
Marie Härtling (Projektleitung/Dokumentation und Ausstellungen)
... studied musicology, ethnology and music education at Johann Wolfgang Goethe University and the University of Music and Performing Arts in Frankfurt am Main. In her studies, she specialized in African-American music in historical and contemporary contexts. Härtling is also active as an artist herself and has professional experience in adult education. At the Jazzinstitut Marie Härtling is responsible for the visual collection. In addition, she supports external exhibition projects and helps our users with their research questions. She curates exhibitions at the Jazzinsitut, and is involved in the organization of workshops, conferences, concerts, and other formats.
Press photo: Please click on the thumbnail above which links to a high resolution jpg.
Contact: Tel. +49 6151 963700, haertling@jazzinstitut.de
Arndt Weidler (Project Manager/general services and concerts)
… studierte Soziologie, Politikwissenschaft und Sozialpsychologie erst in Heidelberg, anschließend an der Universität Mannheim. In seiner Diplomarbeit untersuchte er die unterschiedlichen Erlebniserwartungen des Blues- und des Jazzpublikums beim Konzertbesuch. Während des Studiums arbeitete er zunächst als Tourbegleiter amerikanischer Bluesbands, gründete später eine eigene Künstleragentur für Blues- und Jazzmusiker und organisierte nebenher Clubkonzerte und Festivals zwischen Blues-, Jazz- und Gospelmusik. Seit 1998 ist er für die Veranstaltungen sowie für den Informations- und Servicebereich des Jazzinstituts Darmstadt zuständig. Zu seinen vielfältigen Tätigkeiten gehört auch die fachliche Beratung in Gremien und Jurys. Neben einer Vielzahl anderer Projekte betreute Arndt Weidler für das Jazzinstitut die Erstellung der "Jazzstudie 2016 – Lebens- und Arbeitsbedingungen von Jazzmusiker:innen in Deutschland".
Press photo: Please click on the thumbnail above which links to a high resolution jpg.
Contact: Tel. 06151 963744, weidler@jazzinstitut.de
---
Volunteers
The Jazzinstitut is the smallest of Darmstadt's municipal cultural institutions. For much of our work we rely on the help of volunteers. Volunteers organized in the Verein zur Förderung des zeitgenössischen Jazz in Darmstadt e.V. (Förderverein Jazz) organize many of the concerts but also the catering in our concert space. For archival work our thanks go to: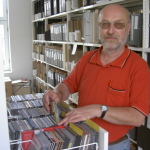 Rainer Grobe (Ehrenamt für Darmstadt e.V.)
... supports us in archiving extensive collection holdings, such as complete discographic recording of the record collection. Rainer Grobe has been part of our team for over ten years. As a committed trade union activist, the current retiree has been awarded the Darmstadt Citizen's Medal for his many voluntary activities.
---
Michael Telega
... is a specialist for jazz films on VHS and DVD. Digitizes and archives the film collection for the Jazzinstitut and supervises its technical preparation for our electronic database. The former IBM employee was active in the Jazzkreis Wiesbaden e.V. and wrote a blog about historical jazz recordings.
---
Günter Schapka
... is a passionate glider pilot and cyclist. The jazz fan and amateur photographer joined our team through concert visits to the Jazz Institute. Collaborates in the archiving of extensive collection holdings, edits the discographic complete version of the recorded sound collection.
---

Helmut Lücke (Ehrenamt für Darmstadt e.V.)
... is one of the most consistent volunteers at the Jazzinstitut, where he supports us with the archiving of extensive collection entries, such as discographic complete entry of the CD collection (new entries and collection acquisitions).
---
Alexander von Leliwa (Ehrenamt für Darmstadt e.V.)
... worked professionally as a pilot and planned the logistics of large airports. Now, in his retirement, he helps us with the development of extensive collection holdings and the initial registration of special collections (Wilhelm-Liefland-Collection, Gene-Krupa-Collection, Hans-Blüthner-Collection).
---
Rudolf Schäfer (Ehrenamt für Darmstadt e.V.)
... was a self-employed graphic designer and helps us prepare exhibitions in the Jazz Institute Gallery. At the same time he helps us with the collection, digitization, cataloging of jazz photos, posters and posters for the electronic database.