Immediately after the war, jazz clubs (then often called hot clubs) were founded in many cities in West Germany, not as venues for live music, but as clubs where jazz fans met, exchanged ideas about jazz history and current releases, and, if they were making music themselves, organized the irregular jam sessions.
At the Jazzinstitut, we have numerous documents about these jazz activities of the 1940s and 1950s. A good example of how the clubs were structured and what their goals were is given in the three-year report from Würzburg for the years 1948 to 1951. At the same time, the example of Würzburg is quite symptomatic of similar clubs in the American zone at the time.
Bebop, quarrels, few women  
It began in May 1948 with record nights and lectures, initiated by the local Amerika-Haus, organized by fans, but also supported by the American occupiers, who made possible concerts by American musicians from the Army as well as jam sessions with American and German musicians.
At the suggestion of the Amerika Haus director, the Würzburg Jazz Club was founded in May 1949 as an "independent interest group that can make its own decisions, detached from Amerika Haus". There were numerous lectures on all styles of jazz (the logo of the club is, significantly, a stylized Dizzy Gillespie head), but soon there was also discord within the board of directors, and furthermore heated disputes with the new management of the Amerika Haus, which could not be settled even by a specially invited representative of the Duisburg Hot Club. And finally, the jazzers clashed with representatives of the music academy, who "compared jazz to poultry breeders' and yodelers' clubs," portraying it as a "tastelessness," even a "danger."
At the end of the annual reports there is an overview of the different aspects of a jazz club in those years: about the course of the club evenings, about the structure of members and visitors (age between 16 and 28, 15 percent female visitors), about available private collections of records, books and magazines, about future goals.
Immediately after the founding of the German Jazz Federation in May 1952, the Jazz-Club Würzburg became a member of this association, which wanted to bundle the interests of the many West German clubs. We have attached four letters from the correspondence with the DJF, which provide further insight into the club life of those years.
Enjoy a trip to Würzburg in the late 1940s, early 1950s!
Annual reports 1948/49, 1949/50, 1950/51
(please click on the images to get to a bigger image in a new tab)
Download the above annual report as a PDF file:
(please click on the image)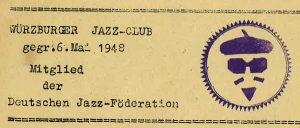 Correspondence with the German Jazz Federation, 1952-54
(please click on the images to get to a bigger image in a new tab)