1 October 2021, 8:00pm
Concert at Bessunger Knabenschule (Ludwigshöhstraße 142, 64285 Darmstadt)
This concert is part of the 17th Darmstadt Jazzforum about "Roots | Heimat: Wie offen ist der Jazz?"
LEONEsauvage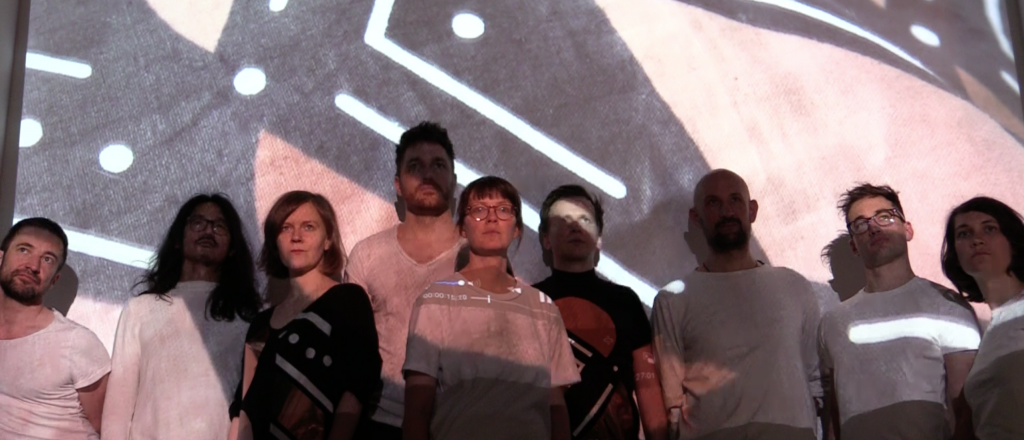 Uplifting words, dreams of the collective, life-affirming, combative hymns and a dazzling mixture of spectacle, ritual and sprawling bluster trumpeted out by Luise Volkmann and her free jazz big band LEONEsauvage.
The ten-piece ensemble LEONEsauvage is indeed a wild one. Dreaming of a world where music gives its listeners what they lack in life: a moment of freedom, a ritual of letting go and letting loose, a celebration of creativity and inventiveness, all of this a remedy against the harsh reality. And of course, community, which helps against the loneliness of the individual. Together we are strong!
Line-up: Luise Volkmann | altosax, leader, Jan Frisch | voice, guitar, Sebastian Gille | tenorsax, Connie Trieder | flute, Florian Walter | baritonsax, Matthias Muche | trombone, Heidi Bayer | trumpet, Keisuke Matsuno | guitar, Florian Herzog | bass, Dominik Mahnig | drums
Luise Volkmann is a Cologne-based saxophonist and composer who now presents LEONEsauvage, her second large ensemble in the free jazz tradition. Quite different from her thirteen-piece ensemble Été Large, LEONEssauvage's music is largely based on collective improvisation. Their compositions bear titles such as "Preacher" or "The Cool", thus pointing to the different characters in the band, which Volkmann deliberately stages theatrically. It is about the personality of the individual player and how these individual colors come together to form a common sound. A sound peppered with hymns that proclaim: Dreams To Come.
Volkmann got the idea for the LEONEsauvage project in Paris in 2016. "Paris is a tough place: There is a lot of homelessness on the streets. In 2016, large boulevards were also repeatedly flooded with refugees camping out in the middle of the city. The city is expensive, space is scarce, opportunities to create are scarce, people work hard and become lonely. That's why I wanted to establish a moment that would free Parisians from their daily lives, and if only for a short time. To briefly escape, to be free, and to gather strength in community, to confront the harshness of everyday life." These ideas, then made her found the first version of LEONEsauvage with young musicians from Paris. Inspired by Sun Ra's Arkestra, the ensemble worked out a rousing stage performance: the musicians worked with movement cues, eye-catching make-up and had actors coach them several times. On stage they were always accompanied by different dancers from the field of contemporary dance or street dance.
"I wrote my bachelor's thesis on Sun Ra and was impressed by how holistically he worked. He managed, in my opinion, to build a whole construct of an alternative world. It is an achievement I wanted to show solidarity with by forming LEONEsauvage as an ensemble that could also make political and social statements."
The ensemble certainly has a wider attitude: In the piece "Hymne pour LEONEsauvage", the young musicians scream at the listener: "Kill your darlings, live the kitsch. We dance down our creed. There's too many walls 'round here. Dreams to come, dreams to come. Wild and untamed blowers, yarning, fragile heads. All to make, all to give. Free the music we give." The song encourages being fragile, being authentic, dissolving external constraints in ourselves and becoming freer with the help of music". Hymne pour LEONEsauvage" was, so to speak, the founding piece of the band.
In the track "Preacher", the singer sings "Let us live an innocent thought of companionship" or "Revolt against the negation of love" and thus addresses a topic that is very close to Volkmann's heart: Community. "As I said, the intense loneliness in Paris has always made me sad. I've always learned that you're stronger together. We also tried to organize the ensemble LEONEsauvage as a collective. Sometimes it worked better, sometimes not so well. But in any case, the concerts have always unfolded an incredible power. I always had the feeling that the whole band had been longing to play for weeks. You could always feel the power of community and the audience was carried away. I always joked and called it 'my free jazz dance band'".
Until 2018, the ensemble played in Paris almost on a monthly basis. When Volkmann moved to Copenhagen that same year, she formed the second lineup of LEONEsauvage there, with whom she also recorded the album. In Copenhagen, she met a colorful and international conglomeration of musicians at the Rhythmic Music Conservatory. The two singers on the CD are Portuguese jazz and pop singer João Neves and Icelandic rocker Hrafnkell Flóki Kaktus Einarsson. Together they form an atmospheric duo that allows enough edge and fuzziness that this music needs. The ensemble's four saxophonists come from Poland, Germany and Argentina, and together they form a formidable body of sound. The rhythm section consists of jazz and improvisational musicians from France, Italy, Poland and Norway. An international troupe that invites you to dance and go wild.
In fact, this year, to coincide with the release of the album, there will also be the German version of the ensemble. "I think with the project extra megalomaniac. The idea of LEONEsauvage is to infiltrate the world." Luise Volkmann won the Jazzinstitut Darmstadt's Kathrin-Preis in 2020 and, with the help of the award, could form a third lineup of musicians mainly living in Northrhine-Westfalia. But not only that: she could also continue her research on the topic, on free jazz and on Sun Ra during a residency in Darmstadt. "As a German jazz musician, how do I deal with the heritage of African-American culture? I think there is far too little discourse on this question. I am very touched by the form of the music of Sun Ra or also the Art Ensemble of Chicago and want to show solidarity, want to learn from it and maybe even want to continue a part of this tradition. It's not so easy to strike the right note for that." The Jazzinstitut's fall conference in 2021 focuses on "Roots | Heimat", and at the conference Luise Volkmann will have the opportunity to present her many years of work with the ensemble as well as her research on free jazz and African-American music.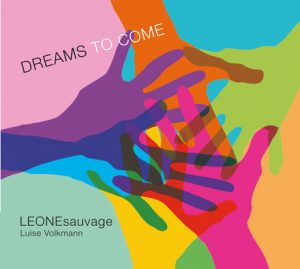 The album "Dreams To Come" comes just at the right time, countering the difficult and complex times that lie behind us with optimism and activism. "I see music at the heart of society. I believe that creativity is the means by which you can master upheavals and with which life becomes even more livable and colorful."
---
Conference:
From, Thursday, 30 September, through Saturday, 2 October 2021, we will be discussing about "Roots | Heimat: Wie offen ist der Jazz? (more…)
---
Exhibition:
From 4 October 2021 the gallery of the Jazzinstitut shows the exhibition "Jazz Stories in Red and Blue" with posters created by Swiss artist and jazz promoter Niklaus Troxler. Some posters will be shown at the conference venue during the Jazzforum. (more…)
---
If you have any further questions, fee free to write us at jazz@jazzinstitut.de
---
Das 17. Darmstädter Jazzforum wird gefördert von